Process control
Process control mixes cybernetics and physical laws to master material and energy transformation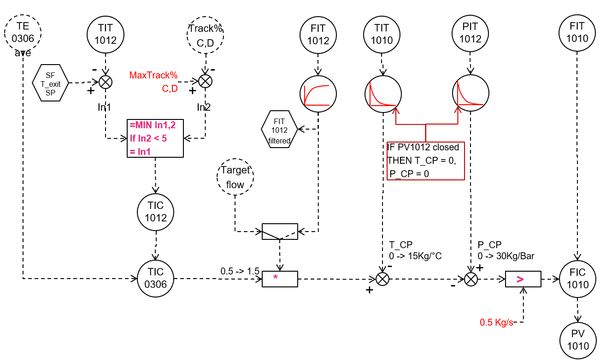 Process control is my initial expertise: I gradually expanded from the cybernetics of machines to organizations'. Meantime, process control information technology converged with non-physical control, from pneumatics, hydraulics, and electronics to digital.
Unfortunately, process control expertise does not exist anymore as a holistic engineering discipline, it is now split into system architects, cybersecurity specialists, software programmers, instrument engineers, process designers...
I still fascinated by industrial processes and very much enjoy developing and setting up process control strategies off and on site.
My rules and beliefs:
A deep understanding of the process is a precondition of its control: One must identify himself as the machine, feeling being the machine, exhaust operators' knowledge, stare endlessly at measurement trends
PID control is an old, yet incredibly powerful control means that needs to be mathematically and physically mastered befoere to envisage sensitive advanced control technics
Control strategies bumpless switching conditions the success of neat, robust control
When things become complicated, go back and follow another way (the number of code lines is a good precursor of failure)
The most important artefacts of process control are measurement and actuators
Pour ne plus recevoir de messages de la SEE, connectez-vous sur le site www.see.asso.fr et décochez la case "Je consens à recevoir des courriels de la SEE" dans votre compte.Voir notre politique de respect de la vie privée sur notre site www.see.asso.fr.